WHERE GREAT GARDENS BEGIN
At Caragh Nurseries, we've always a fantastic stock of trees, plants, hedging and shrubs that we produce over our 55 acres in Co. Kildare. We have a huge range of wonderfully large trees, specimens, plants & shrubs that you won't find in your local garden centre and much more fun! So if you need a new design for your garden or to screen for privacy we are always here to help and we can deliver and plant too!
Newsletter Sign Up for special offers, updates and news!
BROWSE OUR EXTENSIVE PRODUCT RANGE
'Ogon' is an attractive, dwarf, rush-like plant with gold and green variegated leaves 

-

View Details

 Large quaking seed heads erupt over the foliage in summer.

-

View Details
WHAT'S POPULAR THIS SEASON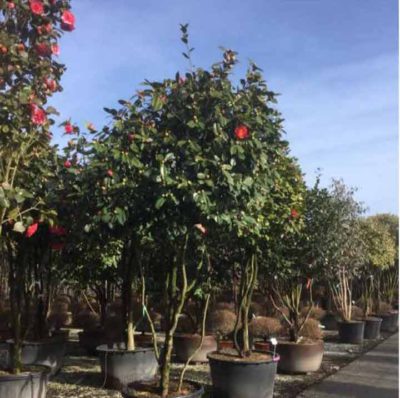 Parachute Forms – Not Just For Flight!
Commercial Garden, garden design, garden privacy, Hospitality Garden, hotel gardens, Multi-stemmed trees, Privacy, Screening, Shaped trees, Spa Garden, Specimen plants, trees,
Parachute form trees are multi-stem trees with wide spanning, mushroom shaped heads. The extensive head of foliage makes these trees ideal for screening, but they work equally well in large pots, and make spectacular statement pieces. We use them quite often in our design projects where something a little unusual […]
Read More