We don't just sell plants, trees and shrubs. We also offer an amazing full services for you and your garden. Whether it's your own garden or a commercial project, we offer unparalleled advice and service. Check out our services below.
CREATING GARDENS
A PRIVATE GARDEN SHOULD BE A SANCTUARY
Your garden should say many things about you and your family, it should be a place for you to work, play, entertain and take time out. It should be an extension of your home, additional space to do all of these things, which with modern city living, is a valuable commodity. It should also add value to your house should you ever come to move on. It should and can do all of these, but many gardens fall far short of accomplishing all of these things.
LET IT BE A REFLECTION OF WHO YOU ARE
Do you need privacy? We have a selection of trees and hedging especially for this with lots of solutions to suit. Does your garden lack maturity? We have a great selection of mature and specimen trees and plants that would add maturity to any garden. Have you re-designed the interior and would now like to give the garden an upgrade and add a contemporary feel?
We have a collection for that with our structural and elegant plants and trees collection in neutral greens and whites with hints of statement colours where necessary.
Don't know where to start? We have a design service, ranging from simple advice on how to gain more privacy, blocking a new extension or build to a full design and plan service, we are here to help and can guide you all the way.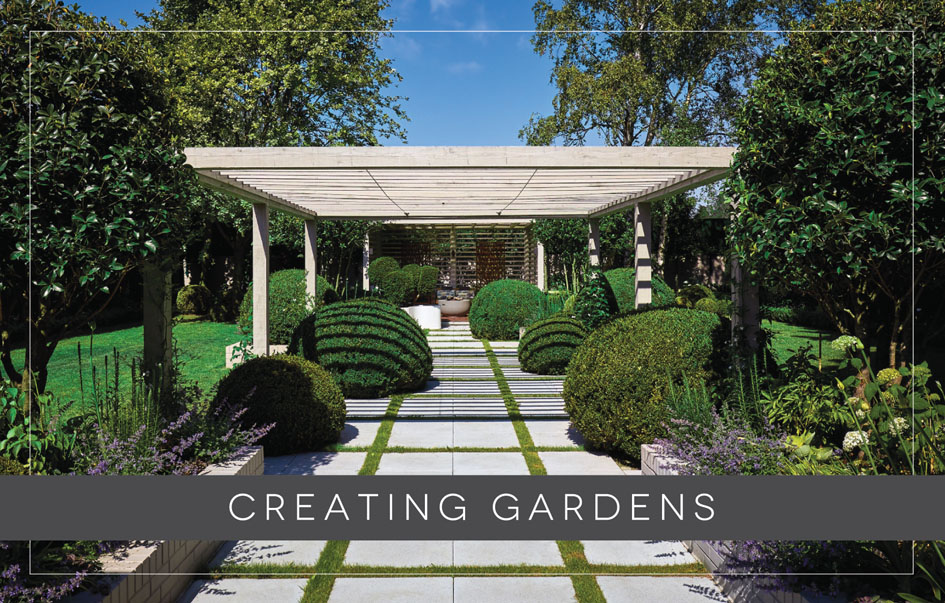 HOTEL & CORPORATE GARDENS
BEAUTIFUL GARDENS ADD TO THE EXPERIENCE
Like a home, your commercial garden should be an extension of your business, add to the beauty and the experience, but also it is important that the space adds value to your venue, adding valuable space for dining or beverages as well as adding a reason to stay just that little bit longer. We have plenty of experience in building hospitality and commercial gardens and believe we can make your outdoor space a real talking point.
EACH HOTEL HAS A NATURAL PERSONALITY
It is our aim to maximise that personality, to bring out the beauty of the surroundings and buildings and enhance that, maybe adding well-placed maturity or designing a wedding garden or courtyard or creating privacy within a Spa. We like to think that we can look at your gardens with a practical eye, advising and all the time maintaining a tight budget.
Don't know where to start? Talk to our design team about your plans, we are here to help and can guide you all the way.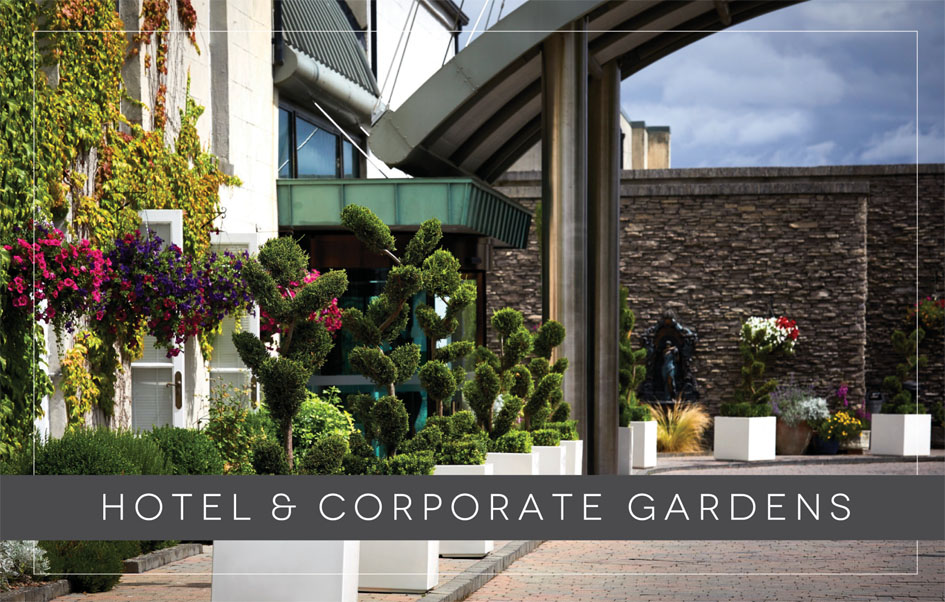 WHOLESALE NURSERY SALES
BEAUTIFUL GARDENS BEGIN AT CARAGH NURSERIES
We have such a wide range of trees, hedging and plants in lots of sizes and shapes but with a specialism in more mature and specimen stock that are hard to get. We have a large range of espalier and pleached trees always in stock and an extensive variety of more mature sizes of trees and hedging. We have trees in semi-mature sizes too and plenty of hedging in standard sizes and shrubs in 2L, 5L & 10L as well as the more mature.
WE BELIEVE IN GREAT CUSTOMER SERVICE
With over 50 acres of land in production in Caragh, just outside Naas, we have plenty of choices at prices that you will find attractive too. We are handy, only 20 minutes from the M50 and with weekly deliveries but if you need something urgently we'll do everything we can to accommodate you so that you can fulfill your client's projects, on time, something we can appreciate is what makes your job much easier and profitable. If you would prefer to bring your clients to the nursery, just let us know in advance so that we know how you would like us to assist you.