The Ideal Home Show is always such a great show for us and we are delighted that you have found our V2Living Showhouse, garden interesting enough to find you here.  Its always difficult with any show garden to show you what we do and what we have as a show garden is a snapshot in time, its not like a usual garden design or build, it has to take so many more things into consideration and this Ideal Home one especially as there is no place to dig to in the RDS indoor hall but we are glad that it has brought you here .
Everything that surrounds you affects you so make sure that you create a space that makes you happy, I recently had a lovely message from one of our clients that we designed and built a garden for and she said "I just wanted to let you know that every time I look out or go into the garden I smile"  this is exactly what I mean if it doesn't make you smile and lift your spirits then make some changes. Make it your sanctuary, for me it's about the world beyond and creating my own idyl, using trees, plants, pots to create an intimate place. Make sure you consider the architecture of your house when building your garden making a cohesive story without distractions.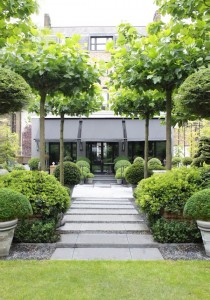 In any interior what is visible through the doors and windows is vital to expand the sense of space and blur the lines between indoors and out, especially with modern house with expanse of glass to bring the light in but equally as important to bring in the vista of the garden. If you live in the city or town then this oasis to escape the chaotic lifestyles we all live is imperative, at least I believe it is.  Consider adding water too your garden, I recently did a piece on my social media about all the different water features from ponds to water bowls and lots with water noise too but none of them involved excavating.  Add outdoor tables or seating paying attention to keeping the pallet and style run seamlessly from in to out.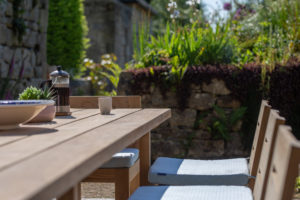 Adding really good outdoor lighting brings another dimension to any garden, seeing the garden in a different light from inside even when not using the garden, it adds space an additional part of your home that lighting brings the warmth to.   Feature plants and trees that are visible from inside creating focal points, pots too can do this and a well placed pot can create almost a piece of art in the garden, adding to your ever changing painting that is your garden.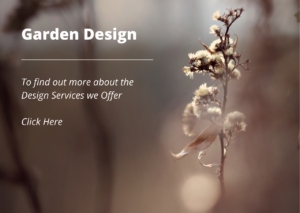 V2Living Showhouse Garden
This garden was aimed at brining all of those elements that I talk about in the previous passage and bringing those to this V2Living Home, looking at the interior and following through the pallet of colour and style from that, as I said its not the easiest when you have no depth for beds but we are lucky that our pot range is extensive and the colours suited the exterior of this house, we included a piece from our in-house brand, Finn & Elder in the Mimosa sofa and you can't miss the beautiful Olive tree that takes centre stage.  We introduced a very simple colour through the garden to compliment the Olive foliage and just lift the outside space a little as the exterior colour of the house was the anthracite grey the pale lavender colour just gave it that lift that we hoped for and so we carried that through in just a few of the spaces.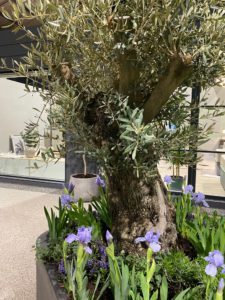 Items in the show garden – click on line item for full details & to order 
Fibreglass shaped planters  €750.00
Fibreglass trough planters in Anthracite grey  2m x 50cm x 60cm €625.00
Buxus/balls balls  45-50cm €180.00 
Skimmia Fragrant cloud. €20.00
Nerja weathered cement, glass reinforced planters  in medium €220.00 
Half standard Olive Trees   €300.00
Buxus planters in anthracite grey. 40cm cubes €140.00
Buxus taller planter in anthracite grey 40cm x 40cm x 100cm tall €355.00
Stone Grey Trough Planters. Extra Large. 2m x 50cm x 50cm. €700.00 
Mimosa Modular sofa in solid teak with silver cast waterproof cushions including coffee table  €4,900.00
Cast Iron firebowl  75cm diameter  €230.00