Winter is one of the harder seasons to create an exciting landscape in our gardens. Therefore from early autumn to early spring, adding evergreen shrubs will boost interest to your winter garden. Have you ever driven by a home during the winter months and thought to yourself that some houses look so lovely during the winter? When a garden looks excellent in the winter, it's usually because the owner has planned out the area to remain interesting throughout the year and so that there are attractive colours and textures during each season to excite the senses.
Evergreen shrubs add a sense of permanence to the garden. They can be planted as focal points or to draw your eye to a particular point in the garden and they can also be planted in groups which adds interest of bold colours to your area. Whether gracing the entrance of your home, defining borders in the backyard, in one of our Irish designed pots on your patio, or creating a welcoming atmosphere to your entrance, evergreen shrubs, with their year-round appeal transform your outdoor space into a landscape that stands out and remains inviting against our changing seasons.
No matter how you incorporate the magnificent evergreen plants into your garden, you can have peace of mind knowing that they will remain beautiful and vibrant throughout the winter season!
Top 10 picks for Evergreen Shrubs for Winter Interest.
Festive doesn't even begin to describe this standout shrub! Nandina Firepower is an explosion of lime green and deep maroon foliage. Though smaller than most nandinas, don't underestimate the ability of this shrub to make a real statement in the yard! Paint your landscape with rainbow colours this winter when you plant Nandina shrubs.
Broadleaved evergreen shrubs such as Camellias are a type of shrubs that hold their leaves through the winter. Camellias have a special place in the hearts of gardeners because they flower in the winter and have vivid colours such as red, Pinks, and whites. The Camellia japonica Rosso stunning, dark-red double flowers bloom in spring and cover this large shrub for a number of weeks. Ideally planted towards the back of a border, this shrub is fantastic for not only providing some much needed structure, but also at giving all-year round colour and providing a lovely foil for other spring or summer flowering plants.
Rhododendrons have a burst of colour in every season, with its vibrant clusters of flowers, adds a burst of colour to the evergreen scenery. From the delicate pinks to the regal purples, these shrubs turn your garden into a year-round floral spectacle. Planted in a masse or as a standalone statement piece, Rhododendrons bring the wow factor to any winter garden. Blue Danube is a dwarf evergreen Rhododendron/Azalea with small, glossy, mid- to olive-green leaves with plentiful small, funnel-shaped, blue-violet flowers in late spring.  It has a dense habit and is ideal for rockeries or borders.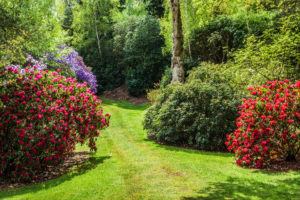 Choisya, commonly known as Mexican orange blossom, is a fragrant evergreen shrub. With glossy, aromatic leaves and clusters of white, citrus-scented flowers, it adds elegance to our gardens. Thriving in various conditions, Choisya is a versatile choice. It's ideal for growing in a mixed borders bringing year-round beauty and a touch of the Mediterranean to your outdoor space. Choisya ternata 'Sundance' is a dome-shaped shrub with bright yellow-green, glossy evergreen foliage, above which clusters of fragrant white flowers appear in late spring. When crushed, the leaves have a distinctive smell, which reminds many gardeners of basil.
Hebe, a resilient shrub, charms with its vibrant foliage and year-round appeal. With an array of leaf colours and compact growth, Hebe offers versatility in garden designs. Thriving in various climates, it's a low-maintenance choice, providing consistent greenery and texture to your garden. Sutherlandii with it's thick, grey-green foliage and purple stems, which contrast beautifully with spikes of white flowers.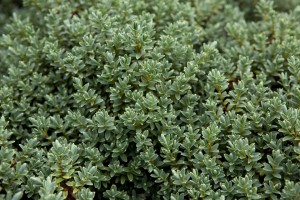 During winter, the compact form of the popular English lavender graces the garden with evergreen elegance. Its slender, aromatic, silvery-grey leaves persist, hinting at the summer's past beauty. Perfect for a small pretty hedge or edging paths, Lavender Hidcote adds a touch of winter charm with its enduring foliage and memories of fragrant summers.
My personal favourite Fuchsia Genii, is a bushy, hardy fuchsia, bearing small, single flowers with narrow pink sepals and purple-red petals. The foliage is yellow-green. Fuschia prefers a sheltered spot away from cold winter winds, with these delicate beauties growing up to one metre tall with a similar spread, making them a great choice. During winter months, Fuchsia 'Genii' undergoes a transformative phase, revealing a unique charm beyond it's summer blooms.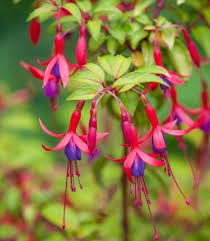 Arbutus unedo or the Strawberry Tree sometimes also known as the Killarney Strawberry tree are evergreen trees and shrubs with small, bell-shaped creamy-white or pink flowers, and red, strawberry-like fruits in autumn. With its rich terracotta brown, tactile, peeling bark and dark evergreen bay like leaves the Strawberry tree makes a wonderful addition to smaller gardens and is ideal for screening purposes.
Fast growing evergreen with very attractive, large, leathery leaves metallic grey-green above and silver underneath but when young are almost entirely silver. Many inconspicuous but strongly fragrant, bell shaped, silvery flowers appear in clusters in October and November and these are followed by small oval orange or red fruits in spring. This versatile shrub adds texture and colour to winter landscapes, standing resilient against frost.
Embracing winter, Escallonia laevis Gold Ellen transforms into an evergreen tapestry. The variegated foliage, showcasing hues from golden yellow to green, adds warmth to the winter garden garden. While fragrant, fuchsia-coloured flowers have faded with the season's end, Gold Ellen retains its resilient charm, awaiting the promise of spring.
If you still can't decide what to plant in your winter garden, we have a small team of garden designers to create your dream garden. Our design service has a couple of options depending on the garden you want. Do reach our and let our team help you with your garden that will stand out and remain inviting against our changing Irish landscape.