Health is the New Wealth
Amidst the chaos and uncertainties of recent years, our gardens have emerged as invaluable sanctuaries – an oasis of peace and solace, offering an escape from the outside world and becoming a canvas for relaxation, health and mindfulness. As full time working parents,  my husband Ian and I have busy lives in our nursery and garden design business and I wanted to bring a new level of relaxation and nurturing to my own garden. We had built Spa Gardens for hotels over the years and this gave us the idea to create a Wellness Garden of our own.
We set out to  design a a garden space to embody the perfect fusion of natural beauty and holistic rejuvenation and now that vision has turned into reality with a wellness garden of carefully selected plants that create a backdrop and source of nutrition for my  yoga deck with tranquil pool and shading trees. The inclusion of  a hot tub, sauna and a cold water shower, with all the health benefits that goes with all of these,  provides a complete relaxation experience that encapsulates the essence of serenity,  therapy and self-care. Moreover, the inclusion of sculptures seamlessly harmonises nature and art, adds an exquisite touch to the garden's ambiance.  The addition of our Sofa Set brings its own benefits at the end of a long day or as I also love to use it, for our early morning breakfast after yoga (I'm definitely only an amateur but willing to give it all a go)

A Space for Privacy
We're connected all the time at work, on social media and with family; sometimes, a little private space in the garden is just what you need to recharge. We created instant privacy with mature hedging, screening trees and ornamental trees. Once you have some privacy, you can let your enjoy the quiet and switch off for a while.
A Space for Temperature Therapy
 In our wellness garden, we have captured temperature therapy through the use of the saunas and a hot tub for relaxation and circulation, as well as the ability to immerse yourself in a cold shower for muscle relief as well as improved sleep and increased white blood cells.  A combination of both creates the ultimate experience.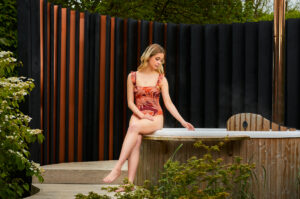 A Space for Manifestation
Some believe that plants have the power to attract things into your life. Whether you believe this or not, sometimes having the reminder of what plants symbolise keeps you focused on what you want to foster in your life! I have added these plants to the garden sanctuary for scent and if they bring additional benefits along the way then its all a bonus!
Acer Little Princess for prosperity
Herbs for nutrition
Camellia's for love
Pinus Viridis Aurea for serenity
Arbutus Unedo for health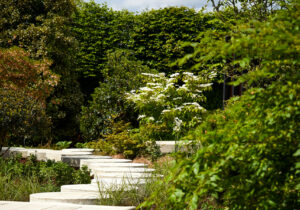 A Space for Yoga
Gardens are the ultimate space to find inner peace. By creating a yoga or meditation garden complete with lots of foliage plants and water noise to help switch off and all of the comfort of nature. Using Millboard decking for my yoga deck with the pools running under, connects me with nature without distracting you from a peaceful yoga session.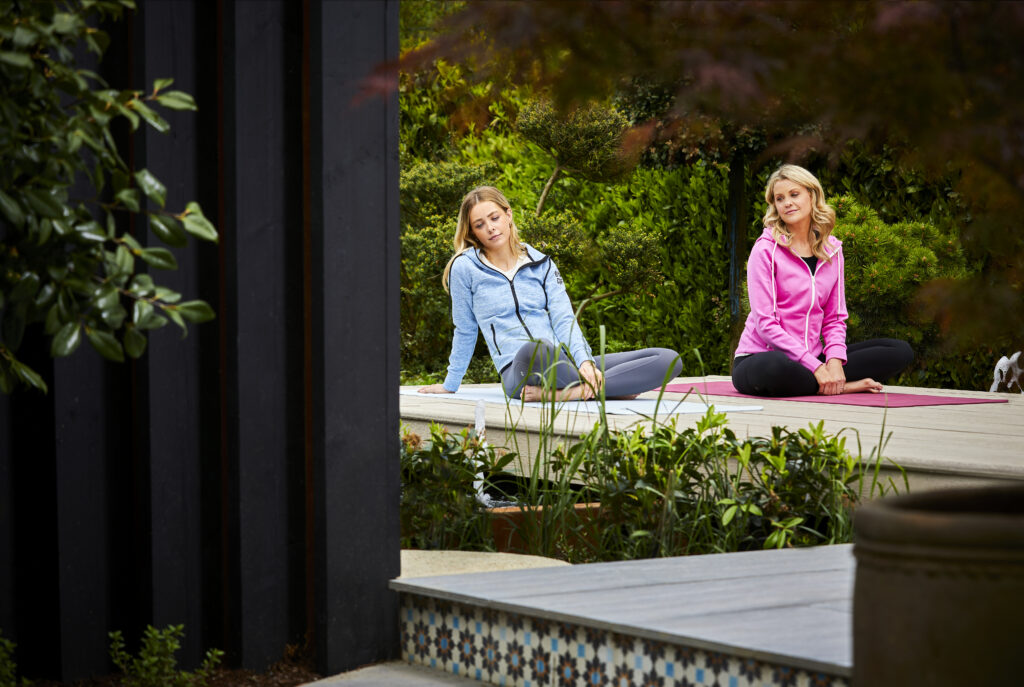 A Space for Conversation
Sometimes a good conversation with family or friends is good for the soul and we all love those long relaxing mornings, mine usually starts with alfresco breakfast and it makes for an excellent start to the day.  Completing my sanctuary with my own designed Finn & Elder Olivia Sofa Set makes me smile and it definitely gets the conversation going on any occasion.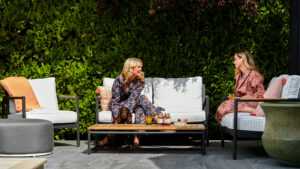 Anyone can have their very own wellness sanctuary garden or elements of it, be it large or small.  For more ideas or to have our designers transform your space into your very own wellness sanctuary, visit Caragh Nurseries.