Wow! Just wow!  We have had our order of Atlantis pots arrive yesterday and today we got the opportunity to unpack one of each of them and see the size, scale and quality of these amazing pots and also the range of tones that they come in, as standard.
Atlantis pots have a unique textured finish formed by salt and sand which creates the 'Atlantis' look. The pots range in colour from chalky whites to yellows, earthy greens to browns. The range of pots is exclusively available to Caragh Nurseries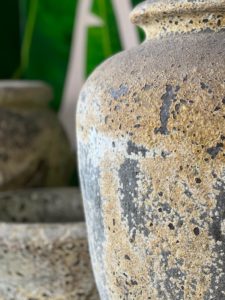 Atlantis pots give your garden a touch of the ancient world. Made new, Atlantis pots are designed to look as though they have been salvaged from the depths of history. Constructed from modern materials using contemporary techniques, they bring the aesthetics of ancient civilisations to your garden. Our range features a variety of jars, urns and planters, treated to be frost resistant and as durable as they appear to have been.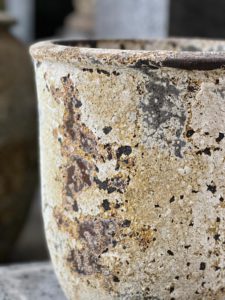 The largest of the pots is the Sentry Pot and at 5ft tall and 78cm wide, its a huge pot, the exact same height as me and absolutely stunning pot that is more of an art piece than a pot I'd put anything into, a focal point outside a large window or at the end of a path or a feature on a terrace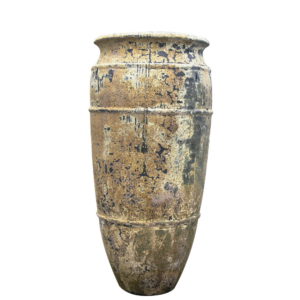 There are some fabulous shapes in the collection including The Skorpio, the Pharaoh and the Kos Jar as well as the wonderfully shaped Thistle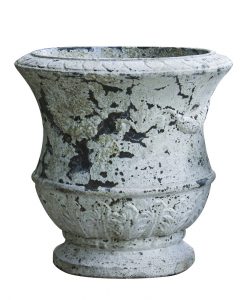 There are some smaller sizes too that are equally as fabulous, I'm keen to try the button planters planted up with some succulents and sempervirens.  The Herb Garden is another one I fancy using by the kitchen door.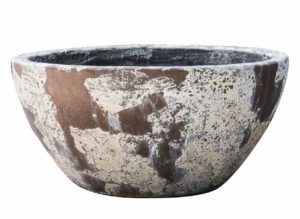 Ok so I just love them all, they aren't your everyday pots and planters they really are something special and you won't find these planters anywhere else they are exclusive to us here at Caragh Nurseries