What sets Caragh Nurseries apart from other garden centres and nurseries is maturity, no not ours (cheeky!) but that of our plants and the knowledge that goes with doing that.
We grow the plants and trees on the nursery so we know everything there is to know about them and we are happy to pass on that knowledge and advise you on what is best for your garden. You get to choose between buying a smaller plant, hedge or tree and watching it grow or buying an older or more mature specimen where you don't have to play the waiting game, which is important is you are overlooked, need to create privacy or have a view that isn't conducive to a relaxing afternoon in the garden.
Picture and Link to some mature specimens that are similar to those at Bloom
Our large specimen being lifted into position at Bloom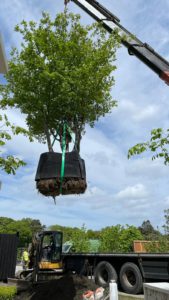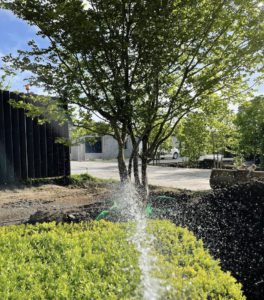 This specimen is a Zelkova Serrata, but I've included a couple of others that will achieve the same look.
We can help you design, plan and plant your garden and can take the hard work out of creating the garden of your dreams.