Where last week was all about photographing and documenting our Bonsai trees  and displaying them on the Nursery Park  ready, this week is all about pots and planters. We have worked hard to make our newly revamped site much easier to navigate and with that we've managed to put some order onto our ever increasing range of pots and planters. They have become such a major part of what we do now that we have loved designing more of the things that we know you've asked for and lots that hopefully you haven't seen before but that we know you'll love as much as we do. So what I was doing this week was re-arranging them into their respective collections and adding lots of new stock that we have unloaded and unwrapped this week too.
So I thought you might like to see a rundown of our collections and some of the new stuff too.
Atlantis Collection
First up, just because it's in alphabetical order is our Atlantis pots.
Atlantis pots have a unique textured finish formed by salt and sand which creates the 'Atlantis' look. The pots range in colour from chalky whites to yellows, earthy greens to browns. Atlantis pots give your garden a touch of the ancient world. Made new, Atlantis pots are designed to look as though they have been salvaged from the depths of history. Constructed from modern materials using contemporary techniques, they bring the aesthetics of ancient civilisations to your garden. Our range features a variety of jars, urns and planters, treated to be frost resistant and as durable as they appear to have been.
These pots are exclusive in Ireland to us at Caragh Nurseries. Not designed by us but stunning all the same, these pots are available to view on the nursery and through our Online Store, They are each so individual, feel free to request images of individual characteristics.  They really are very special and this very unique range has grown even further to include some new colour dynamics to show off.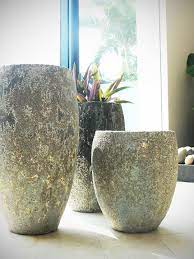 Callsito Collection
Our Callsito Collection is a collection of rich and textured Iron-ore pots, designed for and exclusive to Caragh Nurseries, in beautiful urn shapes and textured interesting shapes. You will have seen these in posts I have written before but I am very pleased with how these feel in a garden, so much so I have a collection of them in my own garden. A really popular collection that you won't find anywhere else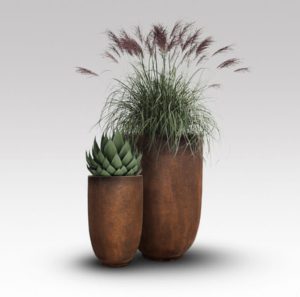 Corten Steel Collection
You will probably be very familiar with our Corten Steel pots come in a wide range of shapes and sizes from the troughs and cubes to the round Atlas and round tapered Cado pots the texture and colour of the Corten steel feels luxurious and lifts any garden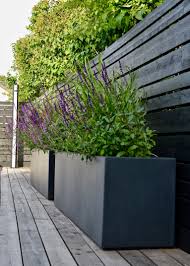 Fibreglass Collection
Next up is the Fibreglass Pots & planters, these are hugely popular as they come in so many different shapes and sizes. The troughs are in sizes up to 2.3m long so ideal for long runs, we'd use these a lot in partitions in hotels and restaurants as well as longer walls in gardens. The high gloss pots are hugely impactive and these even come in some rather special organic shapes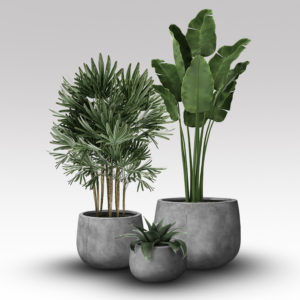 Oberon Collection
Then we have the Oberon Collection, a beautifully designed collection of mainly shades of grey and rich browns GRFC pots, exclusive to Caragh Nurseries. These pots are made to withstand extreme weather conditions and add a touch of sophistication to any garden.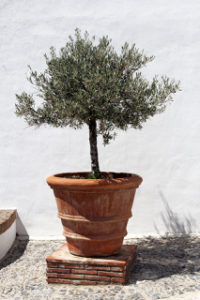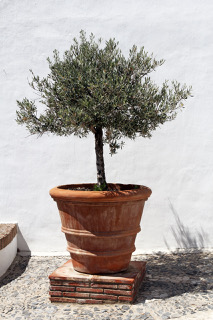 Italian Terracotta Collection
Our Terracotta pots are the real deal, imported directly from the potteries in Sienna, Tuscany. We have three different styles and each one comes in a range of sizes. The largest size is 1metre in diameter, big enough to bath the kids in.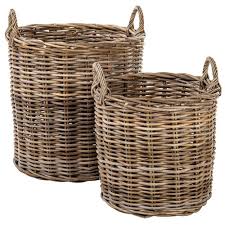 Thalassa Collection
The ranges and these planters in Naturally grey Kubu rattan are ideal for Olive trees, agapanthus, lavender or salvia as well as plenty of other flowering plants or herbs. Kubu is a type of rattan that grows in Indonesian forests of Kalimantan, Sumatra and is naturally grey in colour. We have a great range of shapes, sizes and a variety of uses for these pots and a couple of lovely armchairs in this material too.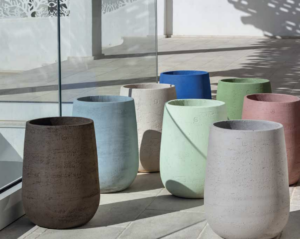 Elara Collection
Elara is a collection that we have designed with our factory and are beautiful in style and scale, its one that we have been working on the colours for over a year, we had the shapes in our head but we want to create some different colours than we currently had, some dappled shades and I wanted to see a green and a blue in the in the range and we weren't bargaining on several shades and styles of each and a pink too.  Our Elara Collection started as two shapes but its grown to be so much more.  They are magnificent and these new colours are great additions to the collection, I really have loved working on them over the last year and I'm delighted with how they've turned out. Like the furniture, these collections don't happen overnight its a lot of designs on paper then trials getting them right in the moulds and then the work really starts on getting the colours right and that's where the factory that we partner with is always invaluable. The Two pots original pots are named the Stella and Alex but the Marbella, Cape Horn, Mont Blanc to name a few are available to order online or on the nursery.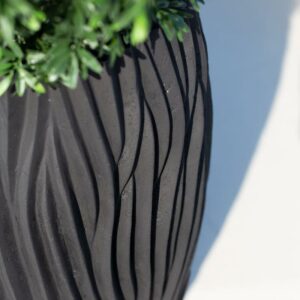 These are brand new and just unloaded on the nursery for you to view and include some amazing colour, shapes and styles of these lightweight pots.  With the Tribeca, a lovely almost sparkly texture to this fabulously en-trend rounded low but wide planter in. two sizes and the River which wouldn't be out of place outside a designer boutique in Knightsbridge or the Champs Elysees and the proportions are just magnificent. Alongside these are our range of Champagne Gold coloured Lotus pots and some lovely textured polystone shapes in a range of colours from creme through to anthracite.   Take a look we think you'll love them as much as we do.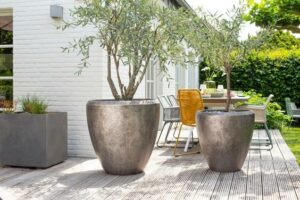 So that's our pots, I hope you've enjoyed the process, as usual if you've any questions contact us in the usual way.  info@caraghnurseries.ie and 045 879170