I have started this year planning, looking at our marketing and budgets before we get too busy, so I'm all figured out and just dying to get out into the garden and get some practical gardening done. In the meantime I have plenty of plans for lovely gardens to complete.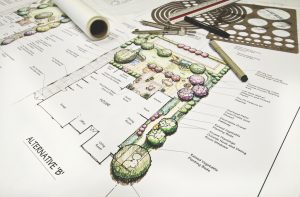 Whilst looking at my marketing for this year and planning what we need for the coming year both in printed material and in digital and video format it has meant that we have had to assess what we do and how we do it to best get the message across to those people who aren't familiar with our nursery and what we do and how we are different. I really had to put on my thinking cap for this and go back to some basics, what makes us unique? What are our strengths?
Well after a lot of thought and brainstorming we came up with lots of what we like to think our customers like about us as well as some of things that they don't. We have a range of trees and plants that you really don't find anywhere else in Ireland, our stock is more mature and our style of gardening is clean, formal, slightly contemporary but classic contemporary if that makes sense.
We have a knowledge of trees, plants and what makes them look well in their chosen situation as well as thrive from years of growing the plants. We grow a lot of the plants on the nursery so we really understand how and why they do well in any chosen position or situation. We design gardens for people, happily deliver especially some of the larger trees and plants and we plant them too if you require.
We project manage larger gardens and commercial gardens and like an interior designer can not only get the best out of the garden for how you want to use it but usually save you money on doing it. So what do we do and what makes us different ? We give you spaces for you to live, entertain and spend quality time with family and friends. We add value to your property and add kerb appeal to any business or home, I think that sums it up in a nutshell so how do we get that message across to people who have never heard of Caragh Nurseries? So I'm starting with a video, a walk through of our nursery and then of gardens that we have created, the creative processes of going from garden to a living space that exceeds all expectations, so that is this weeks task and hopefully by the time I talk to you next week I will have bridged that gap and we will have a video that does all that – wish me luck.