This week was all about furniture, our outdoor furniture is proving to be so hugely popular and we have had so many calls and messages about it that we have dedicated the entire week to the Outdoor furniture range. We are currently in the process of building our Finn & Elder display area, it wasn't something we anticipated having to do just yet but the furniture has just taken off and the demand has been huge, I'm hugely proud of where the collection is going although I'm always on cautious/anxious side about where it is going to next. The furniture display will make a huge difference to how we can show these collections of sofas and dining tables and also how those can be matched with some of our newest pot collections too. The display area will be not the heart of the nursery but I still wanted to keep it real and in keeping with the rest of the nursery so we managed to get our hands on a really old farm style gate with a smaller insert door, which I love and it leads to the anticipation of what's beyond it. We've kept the display area really simple, just white walls and a dark grey concrete floor, almost industrial look so that the furniture does all the talking. We've had some of our best photoshoot images blown up to adorn the walls and bobs your uncle we have our furniture display ready in less than two weeks time.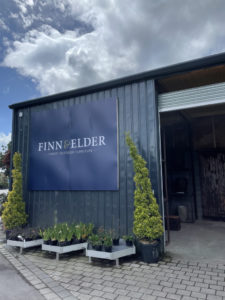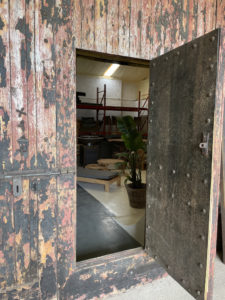 For those of you who haven't seen the collection I should tell you a little about it and how it came about. Our Outdoor Furniture which is mainly under their own brand of Finn & Elder is a wonderful range of hand crafted timber furniture made mainly from teak and as they say 'solid teak wood which has the finest beauty and reputation, and is valuable for its durability and natural weather resistant qualities' the range has dining tables and chairs and sofa sets in several styles using quality outdoor fabrics that have a water and fade resistance and curves and texture to the range that speaks volumes.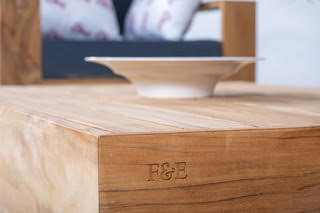 The idea for Finn & Elder was conceived over several years and was thoroughly encouraged by Ian. We, as Nursery owners and Garden Designers had found a severe shortage of quality outdoor furniture for the gardens that we were putting together. What was available was all the same, it was boring and uninspiring and the quality of the component materials wasn't the best.
We spoke with other designers and garden owners and most importantly our own customers gouging their feelings towards what was currently available and what they would really love to see in their gardens, what they would be proud to show off.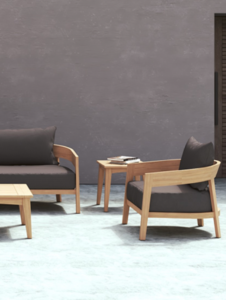 I then spent the time, the amount of drawings I did, the amount of research I did, the ones that I discarded. We then had prototypes made and we and our family used them, jumped on them, left them out, and the dogs rubbed against them. We washed them, we split wine on them and only when we were satisfied that we would be happy with the quality if we forked out that investment did we start really getting excited about our products. We take our inspiration from our favourite coastal locations keeping a freshness to all our designs. You will see many of our pieces named after some of our favourite locations, I'm sure there are lots of your favourites in there too. Each piece is carefully considered and influenced and it feels like a little bit of us as a family is in each piece of furniture. It's been such a personal thing to do and I couldn't be happier and more proud with the collection that we now bring to you. I hope you love it and that when the display is ready that you might come take a look.