September hit us on the nursery with an almighty bang, we had a good deal of scheduled work for July and August thankfully but the drought meant that the nursery was very quiet compared to how it usually is. However, as soon as the schools went back it was like a light bulb was switched on, the phones went mad ringing, the nursery was suddenly back to being a hive of activity with a steady stream of customers and deliveries heading out throughout the country. It's great when that happens, it happened as well after the snow earlier this year you go from zero to 100 almost overnight and given the nature of what we do the weather always has something to throw at us, especially this last 12 months.
So that has meant we are busy working on a good few projects, another two hotel gardens, 3 residential projects and a couple of our own improvements to the nursery that all have deadlines. Unfortunately due to the stage that we are at I can't share any of the details on these just yet.
I can show you some of the beautiful gardens that were completed over the summer including an amazing garden in Dublin that was to most people already a beautiful garden with some of the structure in place but the garden had no soul, it was lifeless and the owners even though it hadn't been done that long were not drawn into the garden at all and so we went about adding texture and warmth to the garden using mainly plants, adding pots and softening the whole look. The garden opened up from the house with an expanse of glass that had a large dining table just inside so the large table and chairs outside were not being used so we advised the customer to change this to more of an outdoor sofa, somewhere to relax and now I'm please to say, my clients have spent most of the summer in their garden, when I spoke to them in August and asked them how there holidays had been he promptly told me that they had enjoyed their garden so much that they had stayed at home for the first time, with the weather we had this summer why wouldn't you.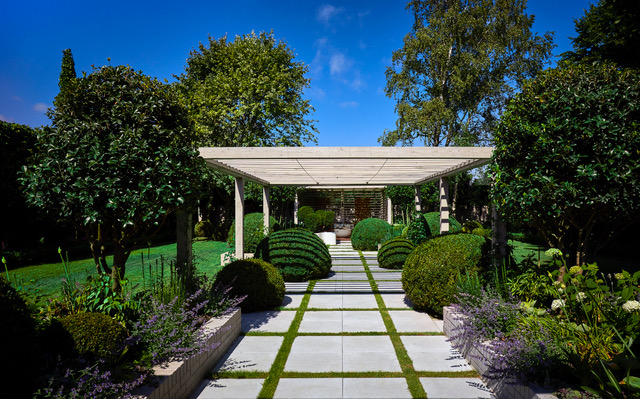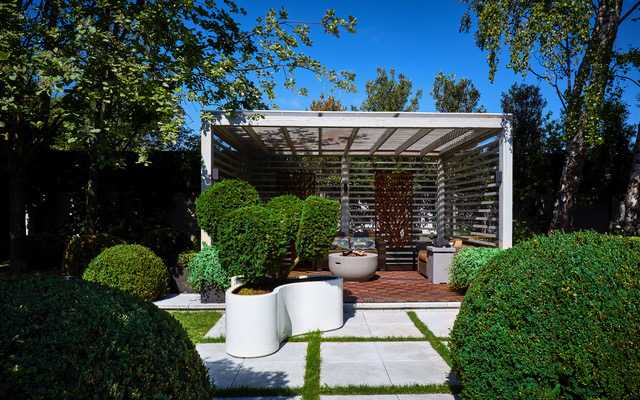 Another garden that we finished early in the summer was the home of a young family that had a beautifully finished house with large extension but this had meant that the garden was small and overgrown and had large trees blocking light and making the area damp and very uninviting. The tree surgeon came in to cut back all the overhanging trees and suddenly there was light which made the biggest difference, they still had surrounding trees but not ones growing in over them and then the hard landscapers went in to put down terraces and build walls and high beds around the garden, we advised on the stone and we advised one of our new favourites of the porcelain tiles as they keep their clean look and don't mark with stains etc.  Then came the planting it was to be clean lines with a minimal but modern look so we created privacy with espalier trees around two sides and then box balls with agapanthus and similar colour ways in the high beds and then one very spectacular bonsai form in the corner. The customers added lighting and then last piece of the jigsaw was the artificial grass supplied, as always by Sanctuary Synthetics of Naas, we would not go anywhere else as they are the best around. Ta-dah! A garden that has something for the whole family in a small but perfectly formed package.
I hope you enjoy seeing what you can do with a garden and if you need any assistance with your own garden then do drop me an email or if you need the services of a good tree surgeon we always recommend Conor Byrne of Alderwood Tree Care, again the best we have come across, reliable and prompt.