Today I was asked about my inspiration for a garden that I have built for an article in one of the national newspapers and I had to think back about when I was at planning stage of the design although I remembered the brief and all the elements I put into the garden it was only when I went to pull up an image of the garden that I caught sight of an image that someone else had taken and posted on Instagram that a I recalled the elements and what I had seen when I was putting that together. The element in question was a walkway from one area of the garden to another and I had seen in my head a layer of pink covering the path and a tunnel of delicious pinkness. The brief for this particular hotel garden was for a quiet reflective garden as lots of other areas of the hotel gardens had become busy and the owners had wanted to find a space for people to stop and rest and stay a while, somewhere that Spa guests would feel at ease walking around in their robes and have lots of pockets of interest and when I saw this image on Instagram it was everything I hoped it would be.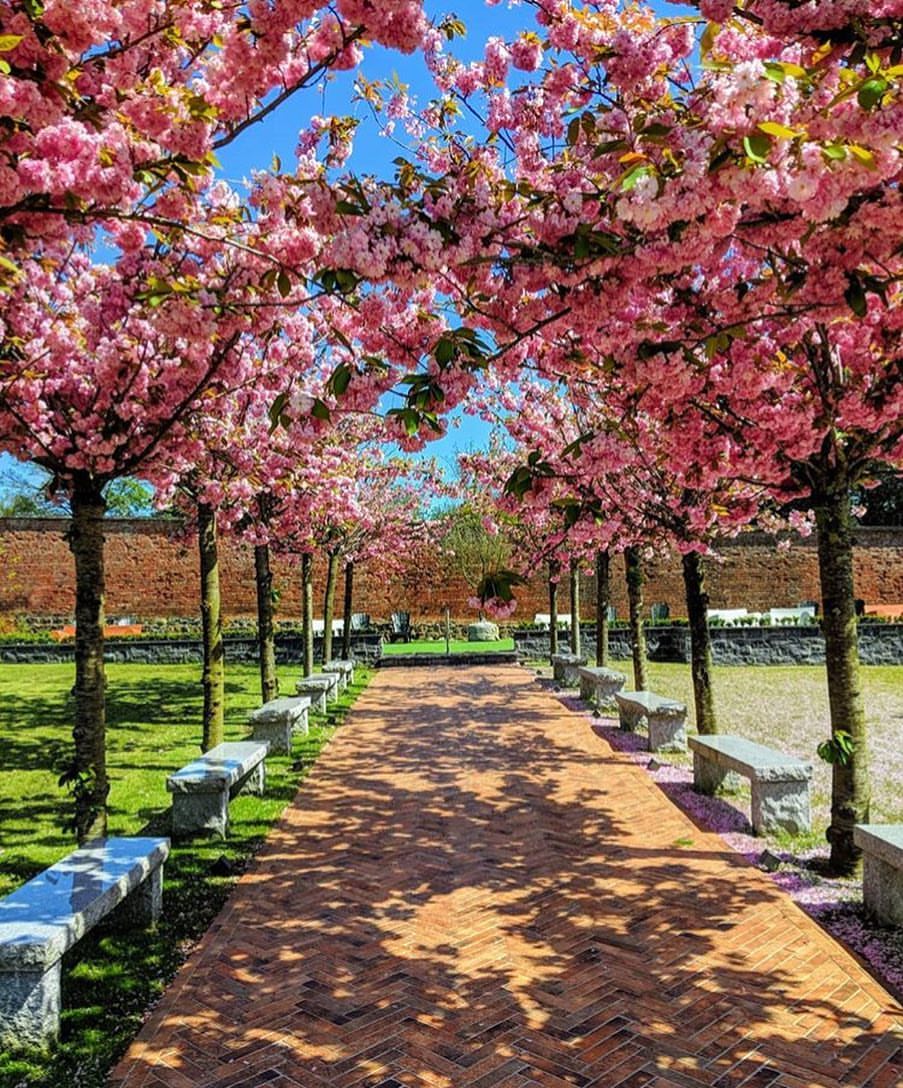 As a designer it is sometimes difficult to put into words where you get your inspiration from, its lots of places and like all designers I do have a style but I also try to add some individuality to each design, something that set its apart, something that reflects the user or owners of the garden and its surroundings. I also for commercial designs think that one of the most important things is to add value, creating something beautiful on its own is not always enough. 
I am currently working on another hotel garden and have been working on giving the garden a very individual feel, something that sets it apart from others, the garden is part of the wedding areas of this popular hotel and as such I wanted somewhere that could be identifiable, what I really wanted was something that people looked at and just stopped to take it in and of course that they wanted to photograph for themselves and for social media so that the hotel would gain by this boost of publicity, something that was worthy of a hashtag and hopefully my client thinks that we have delivered this. For obvious reasons I can't share this yet until it has been fully commissioned and then built but I am super excited to get started. 
For the residential garden that I am also at design stage with I want to give that feeling of relaxed luxury the kind of garden that you wish you had, that has something for everyone in the family but again if we stood back and photographed the garden that you could both see yourself relaxing in, using the garden but also be a little bit envious of the owners of such a garden, so back to work if I'm going to fulfil all those expectations.   To find our more about our design services for your home or business see https://https://https://caraghnurseries.ie/wp-content/uploads/2020/05/Populus-termula-1.jpgnurseries.ie/wp-content/uploads/2018/05/naas-racecourse-e1525437359519-1.jpgnurseries.ie/our-services/garden-design/