Standing out in the crowd isn't as easy as it seems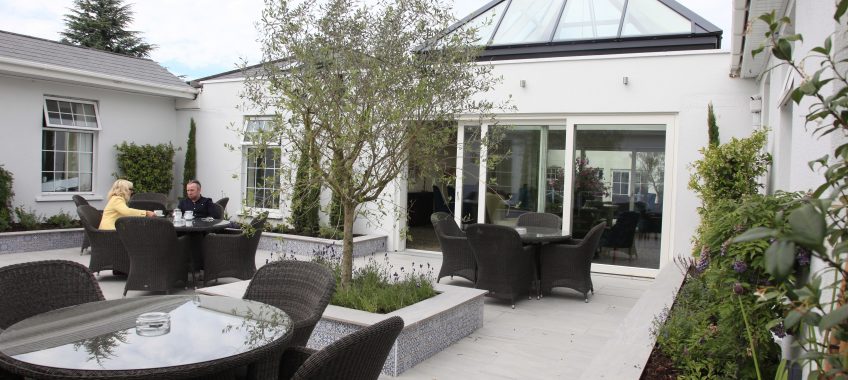 Never one to sit back on their laurels the owners of The Keadeen Hotel in Newbridge are very progressive, they have a beautiful hotel with a lovely warm feel about it but they are always looking at ways they can improve the place and over the last couple of years we have assisted Mrs O'Loughlin & her family with their gardens and outdoor space, first we re-designed the entrance & areas into the hotel and since then we have worked on various areas of the hotel.  Earlier this year they asked me over to the hotel to discuss a new area of the hotel that was being developed, a new restaurant, The Bay Leaf which was going to open up an area of the hotel to create a better flow to the hotel and much more light and airiness and we had been asked to design and construct two courtyards with the same light & airy feel to mirror the interior.

We set about with our design and once that was in place and Rose and her family were happy with it we started on the next phase of assisting them with sourcing of all the stone, lighting & all the other aspects of the garden that needed to be organised before the planting starts, we have been involved in lots of projects so have a team of resources that we can recommend to the customer. Once the groundwork had been completed, the electrics and plumbing in place then it was time for the stone to go in, we picked and Italian porcelain tile for the courtyards, which would create a contemporary look and would also be stain resistant, we teamed this with a blue Mediterranean patterned tile for the surrounding bed walls, all sourced from Outhaus in Dublin. The gardens were really starting to take shape when the walls were painted white and the lighting went in.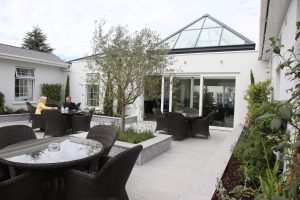 Now all that was left was the planting, this is where we come into our own and our team of plant installation specialist took to work planting Olive trees, as focal pieces on each of the courtyards, we had to work to cover several necessary downpipes with Italian Cypresses and then the softer planting, we are absolutely delighted with how the gardens look and so are the customers of The Keadeen, we have received lots of praise for the gardens. If, like many other visitors to the hotel, you would like more details of how we achieved the look then pop me an email to jo@caraghnurseries.ie and I will forward you through the spec