Description :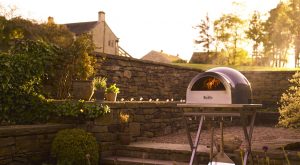 OUR OVENS & WHY THEY ROCK
Our stylish ovens are made of fibreglass and weigh just under 30kg.
Patent pending Insulating heatproof handles & oven base mean they can be positioned anywhere, on anything sturdy enough to safely bear the oven weight.
Perfect for urban balconies and gardens
Completely waterproof shell, exterior resistant to hairline cracks*
If you're not a pizza lover, meat/fish & veg cook perfectly in our ovens
Ready to cook in around 25 minutes
Authentic wood-fire cooked pizza ready to eat in around 90 seconds
Every oven is made by hand in Yorkshire
All our ingredients are organic and sourced in the UK
Our ovens come with a Guarantee on construction and workmanship
All our ovens are delivered with Harrington wood & ecolighters to get you started
Delivered with the convenience of a personal carriage service to your door, the oven positioned to your preferences and all packaging removed.
Outdoor use only
Price is for Oven Only – see our bundles for accessories and bundles!